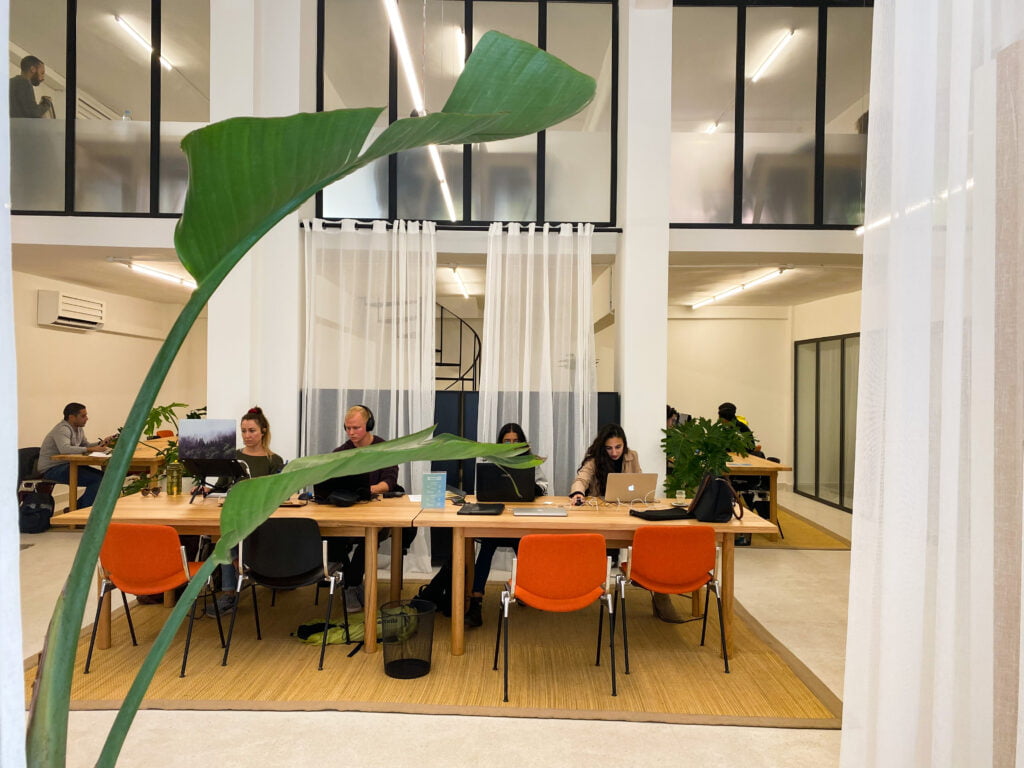 While coworking spaces are becoming increasingly popular, with the number of spaces reaching 20,000 by 2020.
The number of coworking spaces worldwide is set to more than double by 2024, to over 40,000.
Before the pandemic, coworking spaces were the fastest-growing type of office space in commercial real estate.
While they currently account for less than 5% of the market, they should represent 30% by 2030.
That's why more and more people are asking what exactly a coworking space is, and why they're becoming so popular.
In this article, we'll explain what coworking is, and what types of people can benefit from this type of space,
To explain towards the end the factors leading to the increased popularity of this type of space… Let's find out.
Coworking: what is it? What's a coworking space?
Coworking is a new way of organizing work that brings together a shared workspace and a network of workers practicing exchange and openness.
Also, coworking refers to an arrangement in which several individuals working in different companies share an office space.
This means cost savings and convenience, thanks to the use of the same resources and a common infrastructure,
Such as equipment, utilities and reception and custodial services, and in some cases, refreshment and parcel services.
Coworking is undoubtedly a new way of working and sharing.
Coworking ecosystems are created as productive, collaborative environments.
It's also about belonging to a community, creativity, fun, flexibility, accessibility and sustainability.
Coworking means working together under the same roof, using the same resources but for different companies.
Coworking is a style of working where people share a common office for their independent activity.
Who can benefit from the coworking space?
Many people can benefit from the services offered by coworking spaces,
These include: freelancers, self-entrepreneurs, contractors with small teams, large companies, company employees, etc.
Starting with freelancers A freelancer is a person who is hired by different companies to carry out tasks according to his or her skills.
Freelancers often have no permanent job with an employer, nor are they tied to their terms outside the scope of the task.
They often work remotely for an organization. Coworking spaces are ideal for freelancers.
Then there are the autoentrepreneurs It's worth mentioning that people tend to confuse the term freelance with autoentrepreneur.
However, these two terms refer to completely different realities:
Freelance commonly refers to a self-employed worker, while autoentrepreneur is linked to a specific legal and administrative reality.
Self-employed entrepreneurs need office space not only to sit and work, but also to obtain an office address for meetings with clients and others.
Next, entrepreneurs with small teams are also among those who can benefit from the coworking space.
Indeed, this type of space is so beneficial for entrepreneurs with small teams,
Since they are the best offices they can get for themselves and their team members,
Not only in terms of design, infrastructure and resources, but also in terms of price.
It saves them the extra expenses they would have had to spend on a weekly basis if they had to rent a traditional office.
Coworking spaces offer private cubicles fully equipped with all the facilities a professional may need for the smooth running of his or her business.
Still among the beneficiaries of coworking spaces are large companies as well.
This trend is very popular in America, Europe and Asian countries, and it's starting to emerge more and more in Morocco too.
A coworking space is the new office space that large companies dream of in a new city, where they save the hassle of finding and managing real estate for their expansion.
These coworking spaces are the new offices of large companies.
They even save them a lot of money, and keep their employees happy and productive.
And last but not least, corporate employees who are making increasing use of coworking spaces.
A person who has the opportunity to work in a luxurious office space with recreational activities and events…
He will certainly choose this option over the traditional office culture.
It's well known that traditional offices have an increasingly negative connotation that discourages rather than motivates.
Numerous surveys have shown that people working in coworking spaces tend to be more productive at work
And they're generally happier than their counterparts in traditional offices.
Why are coworking spaces so popular?
This is true in Morocco, where the market for coworking spaces is limited in terms of the number of existing spaces,
For example, there are less than 10 coworking spaces in Marrakech, but at the same time demand is increasing dramatically.
Supply remains less than satisfactory in relation to existing market demand,
But there's no denying that Marrakech's coworking spaces are doing an excellent job in terms of what they have to offer.
Which brings us to the most important question of all: how popular are these spaces?
In fact, coworking is an effective solution to working from home, where people don't feel isolated and alone, and can stay away from distractions that can prevent them from being creative.
Distractions can hinder the productivity of all of us, which is why coworking spaces come to the rescue.
They've become popular because coworking is more than just a space, it's given rise to communities and values that help people develop.
It has enabled millions of people around the world to increase their productivity and network with like-minded people.
Coworking spaces are an ideal workplace for freelancers, and are undoubtedly one of the best solutions for working from home.
Coworking spaces give users the feeling of owning their own office, where they can walk in at any time and work for as long as they like.
It also gives them the chance to explore other opportunities and be more flexible and comfortable.
So instead of renting traditional office space and incurring many extra costs…
Coworking spaces are the best form of serviced office for these professionals.
What's more, coworking creates a community of like-minded people.
It makes perfect sense to call coworking a movement.
We hope this has given you a better understanding of what coworking is and why coworking spaces have become so popular in recent years.