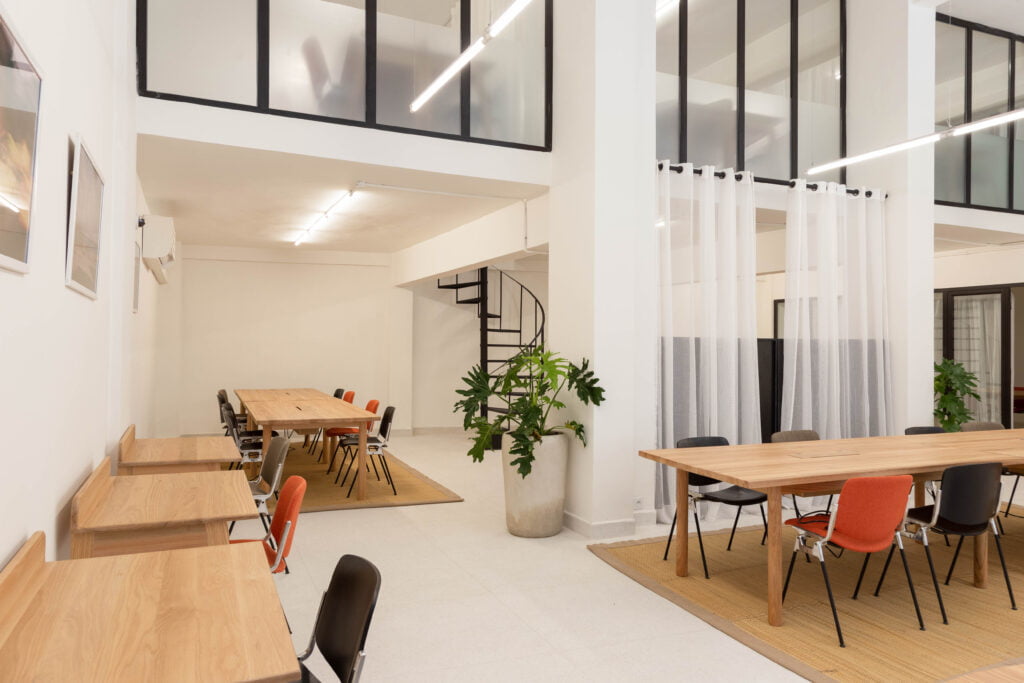 Le Coworking refers to a friendly, pleasant space that brings together different profiles of professionals and workers operating in different sectors.
The concept of "coworking" has become synonymous with an innovative new way of working for millions of professionals around the world.
It developed in a very short space of time, and these collaborative spaces can be found all over the world…
Not surprisingly, this sector grew by almost 30% between 2013 and 2018.
Statistics show that the number of coworking spaces is set to reach almost 20,000 worldwide by 2020.
What's even more fascinating and remarkable than its historical growth…
This is the fact that the number of coworking spaces worldwide is set to more than double by 2024 to over 40,000.
So, how has coworking gone from a tiny industry to one positioned with considerable influence on work organization?
To understand the future of the coworking space, we first need to look at its history.
the history of coworking spaces :
The birth of coworking:
In its early days, the notion of coworking spaces didn't always resemble the recent image we have of them.
In general, the concept of the co_working space originated in the famous artists' studios of the last centuries.
It was, of course, based on the same principles: grouping together in a given space to share opinions and inspirations, while spreading the cost of rent.
In this new age of the Internet and technology enabling people to work anywhere, anytime for a wide range of tasks and professions…
Nevertheless, professionals and freelancers are always on the lookout for new ways to experience work in a rational, economical, enjoyable and balanced way.
The recent context is characterized by the rapid growth in the number of self-employed workers.
These workers can be start-ups, business freelancers, entrepreneurs, and even large corporations.
These communities of often self-employed, precarious and young workers have been able to develop and build a network of sharing and solidarity, and encourage collaborative working.
These spaces have enabled them to pool resources, knowledge and know-how, and improve efficiency and productivity, in a safe, pleasant and friendly environment.
Historians say that the first promoters of this type of workspace were the cafés of Saint-Germain-des-Prés and Mitteleuropa.
Historically, these were places where writers, artists and intellectuals could meet in a creative and productive mix of work and conviviality;
Hackerspaces such as Berlin's C-BASE were prototypes of these work environments in the mid-1990s.
In addition to community centers like Vienna's Schrauben Fabrik in 2002…
By way of information, IBM France introduced occasional workplaces based on the same coworking concept in 2000, under the name of local offices.
Yet coworking spaces, in their modern form as we all know them today, were officially born in San Francisco in 2005.
An open space designed to offer a mix of office space, shared lunches and events such as bike rides and group meditations.
Although it closed its doors after just one year…
This coworking space's innovative mix of styles and workplaces has laid the foundations for the current boom in coworking spaces worldwide.
The evolution of coworking :
The idea of coworking was first mooted in San Francisco in 2005, and has gradually spread around the world to become fashionable.
Especially in the various sectors of activity where work can be done anytime, anywhere, without the need to work in a traditional office.
Indeed, the post-crisis 2008 period was particularly marked by the Coworking concept, which has become a symbol of the sharing economy.
Coworking spaces have become widespread mainly in cities in developed economies, including San Francisco, New York, Berlin, London and Paris.
This period was also marked by the emergence of self-employment/self-employment, which emerged as a new dynamic in the labor market.
In 2011, theUN published a coworking guide for small businesses, freelancers and non-profit organizations associated with this institution.
This has given this type of workspace greater popularity and made it a familiar concept in the working world.
In 2014, over 2,500 Coworking spaces were mapped worldwide.
In 2017, the number rose to 13,800 in 2017 coworking spaces spread across five continents.
During this period, Europe boasted the largest number of coworking spaces in the world, up to 760, of which 67 are in Germany alone.
But they have continued to develop rapidly in the USA, the initiators as well as other European countries, with the emphasis on coworking in France, which has achieved remarkable growth in recent years.
African and South American countries are also increasingly creating this kind of space, but at a slower or slower pace.
This field could affect 10% of all workers in developed countries before 2030.
A 2020 study by Coworking Ressources and Coworker.com on the growth of coworking worldwide indicates that the number of coworking spaces will have reached 20,000 by 2020.
And what's remarkable is that this number could double by 2024, to 40,000 spaces worldwide.
This form of work is increasingly favored for reasons of economy, flexibility and/or to boost creativity through the networking opportunities they offer.
All this for an overall cost that is often lower than that of a traditional office, plus a more qualitative, productive atmosphere coupled with a wide range of services.
Coworking in Morocco today
Coworking in Morocco remains a small market, with an estimated 40 to 50 spaces across the country, spread over major cities such as Marrakech, Casablanca and Rabat.
By way of illustration, the number of coworking spaces in Marrakech is very limited, with only 5 on the market, including: The spot , Cowork in marrakech, EBF,…
L'Blassa, a coworking space in Marrakech newly created in 2021 near Marrakech plaza in the Gueliz district, offers a variety of services satisfying market needs in terms of :
– the resources needed for users to function properly (individual offices, internet connection, meeting rooms, cafeteria, conference room, etc.).
– A pleasant, well-equipped work environment that stimulates the mind and productivity
– And in terms of a community of professionals in different sectors coming together in the same place, increasing networking opportunities.
It is also home to an incubator whose aim is to support young entrepreneurs and strengthen the entrepreneurial spirit in Morocco.
It's true that the pace of development of coworking spaces in Morocco is slow, but its expansion is certain!