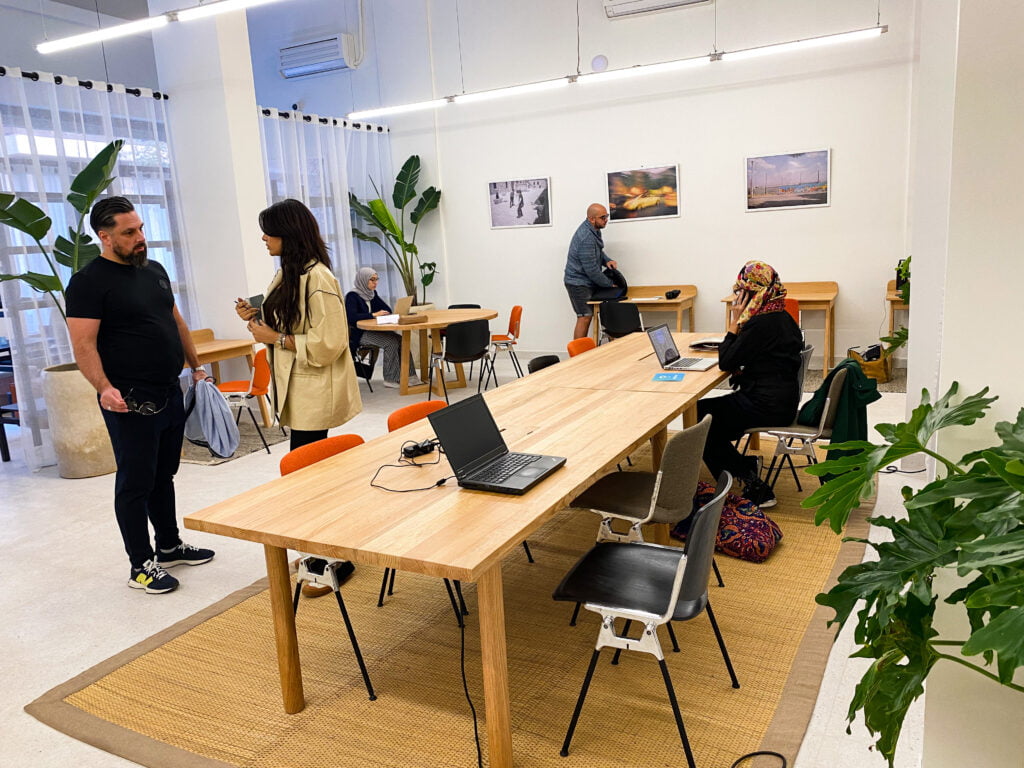 These days, we're seeing more and more people developing an entrepreneurial spirit that breaks away from the traditional way of working, namely: salaried employment.
And with the constant development of technology and communication and the digitalization of the world…
Nomadic working is now the order of the day, offering the advantage of being able to work outside the traditional workplace at any time.
The self-employed (freelancers, self-employed entrepreneurs, freelance workers, etc.) have more choice than ever.
They can choose to work from home, work in a shared workspace, or rent a traditional office.
Visit coworking spaces have become one of the most disruptive elements of today's working environment.
This type of shared workspace is no longer a trend, but a new form of work organization that is gaining strength day by day.
In this article, we try to answer the following question:
Is a coworking space a good solution for freelancers? And if so, how?
Why are coworking spaces a good solution for freelancers?
Since freelancers work autonomously and flexibly, it's only logical that they should benefit from a flexible, autonomous workspace.
This is exactly the kind of environment a coworking space cultivates.
Unlike traditional office spaces, L'BLASSA for example, is one of the best coworking spaces in Marrakech,
It respects the independence of every individual by giving them the resources they need to be productive.
In general, these resources include individual offices, workstations, Internet connections, meeting rooms, a cafeteria, conference rooms,….
At the same time, it's a collaborative workspace encouraging networking between entrepreneurs and freelancers,
A shared workspace brings together professionals from different sectors, making it an ideal environment for acquiring new knowledge.
And being part of a community of professionals motivates you to be more productive and inspired.
As such, as an answer to the question of the usefulness of coworking spaces for freelancers:
Coworking offers freelancers a better experience in a number of ways
You're not convinced yet!
All right! In the following section, we'll go in-depth into the benefits of coworking spaces for freelancers and entrepreneurs.
The advantages of a coworking space for freelancers :
Opting to work from home is certainly not expensive…
But disruptions and distractions at home can adversely affect the quality and performance of work.
A coworking space, on the other hand, offers all the resources, conditions and atmosphere needed to be comfortable and productive.
Freelancers can choose a coworking space that offers flexible subscriptions to suit their needs.
This saves expenses and guarantees a certain economic rationality on its part in terms of cost-effectiveness.
Working in an open space is characterized by collaborative working, bringing together people from different sectors and increasing networking opportunities.
Today, networking is an essential pillar for promoting products/services or business activities as a whole.
This growth and development stems from the collaborative opportunities triggered by sharing the same workspace.
Professionals can even invite their office neighbors to join them in a workshop to establish a collaborative working relationship.
A balance between private and professional life
Certainly, it's hard to balance private and professional life.
Working from home can cause a number of distractions and disruptions that freelancers need to deal with.
So it certainly affects his concentration and instead of completing his work efficiently, he can't get it done.
That's why it's so important to find a work environment that allows you to get the job done in an uninterrupted timeframe and increase your productivity,
And with certainty, we can tell you that this is guaranteed in the coworking space.
It's very motivating to work and share victories and frustrations with others who have taken the same professional risks.
Freelancers can be part of a community that exists to keep its members focused and determined.
This sharing of skills, experience and information can be highly beneficial in terms of productivity and business development for coworkers.
Today's coworking spaces actually function as communities that meet as often as they work.
Many spaces organize meetings, workshops and even on-site activities to help maintain the community environment.