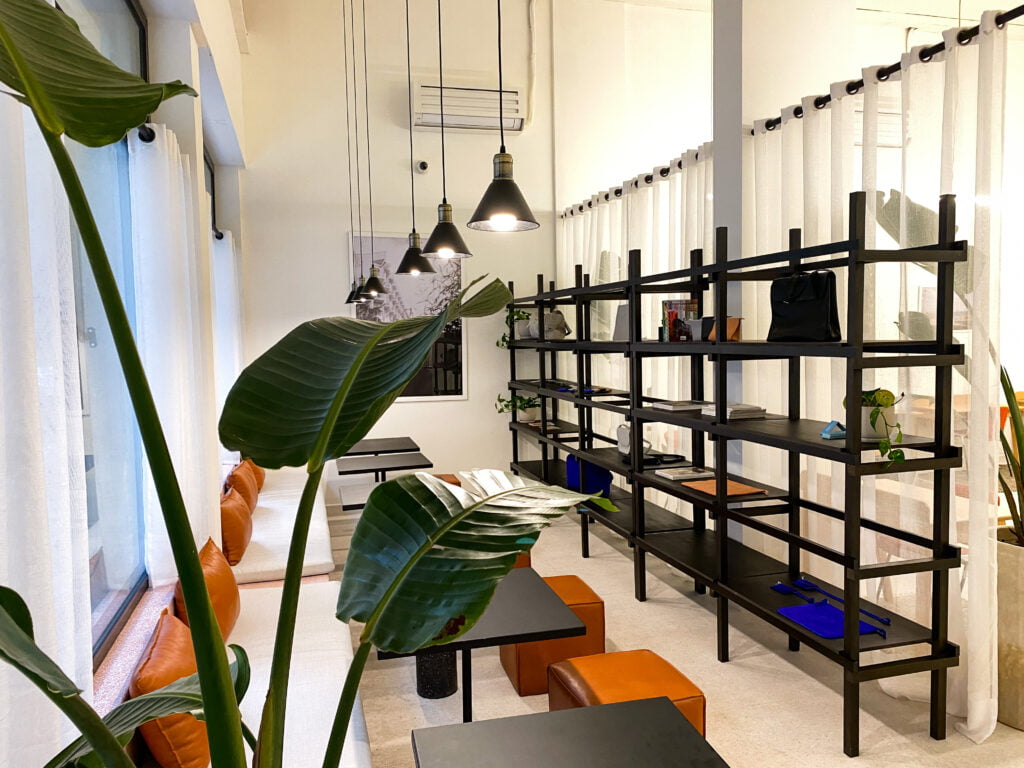 The coworking spaces are a proven way of improving productivity, creativity and well-being thanks to the work environment they provide.
These spaces offer the resources needed to enable workers to operate in the best possible conditions and at the top of their work capacity.
Although coworking began with the concept of serving freelancers, new startups or small businesses with their own workspace at a very affordable price…
it's much more than that. Coworking turns the scenario on its head, offering an environment already designed for networking.
Today, coworking spaces offer their users the chance to connect and collaborate with new people every day.
Coworking spaces in Marrakech are as versatile as the people who use them.
They represent a flexible work structure and an ideal place to work, developing a strong and diverse professional network among high-potential individuals.
This is crucial for freelancers/entrepreneurs/new businesses to create new business opportunities to grow and prosper.
The Lblassa team is revolutionizing the way people work, by creating a coworking space in Marrakech ,
ideal and perfect for people with an entrepreneurial spirit who need to work freelance or remotely.
In this article, we'll discuss why coworking is the best solution for developing a healthy networking environment. Let's go !
Why is networking important to your success?
before moving on to coworking and its vital role in building a solid network…
First, we need to know why networking is important to you?
Why connect with people you don't know and then say you have a network?
Now, there are a ton of reasons why networking is good for business.
First of all, networking gives you access to opportunities you might not be able to find on your own.
A good network can give you insight into different areas, information and advice on how you can improve professionally.
Networking puts you in touch with mentors and investors, sharpening your personal, interpersonal and professional skills.
You should always remember that a single contact can get you meetings or interviews with several companies,
all without you having to strive to build relationships in each of them.
Effective networking can save you effort, time and stress.
So knowing how to maintain good relationships and use them effectively can be a powerful tool for your professional development.
Coworking is perfect for professional networking
They reveal many reasons why collaborative workspaces are ideal for building a healthy network.
First of all, we all know that coworking spaces are now equipped with a host of features that provide users with a suitable workspace,
But there's also the versatility aspect of these shared workspaces, allowing you to meet people from different backgrounds working under the same roof.
This sharing of resources and space with people from different industries gives you the opportunity to share your expertise and get help from other experts.
This reciprocal sharing of experience and information can stimulate a relationship that can only lead to future gain.
When you walk through the doors of L'BLASSA, our coworking space in Marrakech,
you'll meet dozens of experienced individuals operating in different sectors with different backgrounds.
these ambitious people are all looking for the same thing you are:
Personal and professional success and the creation of meaningful relationships.
It's not just about networking with the people in the coworking community, but also about the exponential value of these people's networks.
Secondly, because the coworking space is made up of people from different backgrounds and with different skills,
It offers immediate help with any kind of problem.
This type of workspace offers a diverse group of professionals all with their own skills, backgrounds and ideas.
You can simply ask the person next to you who's a web developer, for example, to help you solve a problem on your company's website.
The ease of exchanging work at L'Blassa coworking space is an absolute joy. What's more, it goes a long way to promoting and developing any business in any sector.
Thirdly, one of the main reasons why coworking spaces are the best solution for networking is the sense of community found within them.
We try to encourage people who use our coworking space in Marrakech to make the most of their experience.
Blassa can simply give you the chance to meet like-minded people and build a lasting relationship with them.
We understand that there will be many days when you simply want to find a quiet space and get on with your work without any distractions…
( which is great, and we provide plenty of places where you can do it).
Yet part of the success that sets our coworking space apart is the strong, saintly community between the four walls.
The members of our coworking community are incredibly loyal to each other.
Your coworking colleagues become your best supporters, helping you to grow in your professional career.
And if you're good at what you do, they'll certainly talk about you and recommend you to others.
Fourthly, there's the friendliness and pleasantness of coworking spaces.
Unlike traditional offices, these spaces offer a less stressful, more convivial, more transparent and, above all, more pleasant working environment and atmosphere.
It's clear that human nature likes to have fun and have a good time, even at work.
This is a huge challenge for the structure and organization of work in conventional offices,
they face a difficult situation in that employees in these offices often feel frustrated and stressed in such a working environment.
On the other hand, coworking space is fundamentally built on the idea of providing people with a less stressful work environment that boosts productivity.
Why choose L'blassa coworking space :
BLASSA finds flexible, affordable workspaces in Marrakech for start-ups, creatives, freelancers and entrepreneurs, and even large corporations.
We offer an inspiring environment of personal and unique work to our quality members at Gueliz in the city of Marrakech,
And we have strong links with the local community, making networking opportunities for our users very extensive.
At Lblassa coworking space, we look after you and make sure you get everything and more for joining our community.
We believe in opening communities in Marrakech that inspire progress and open up interesting business opportunities for our beneficiaries.
Our coworking space in Marrakech is designed to be open, to encourage collaboration and productivity, and to inspire you to think differently.
If you're looking for a coworking space in Marrakech that offers you the environment and opportunity to collaborate with like-minded individuals…
THEN L'BLASSA IS THE PLACE FOR YOU.