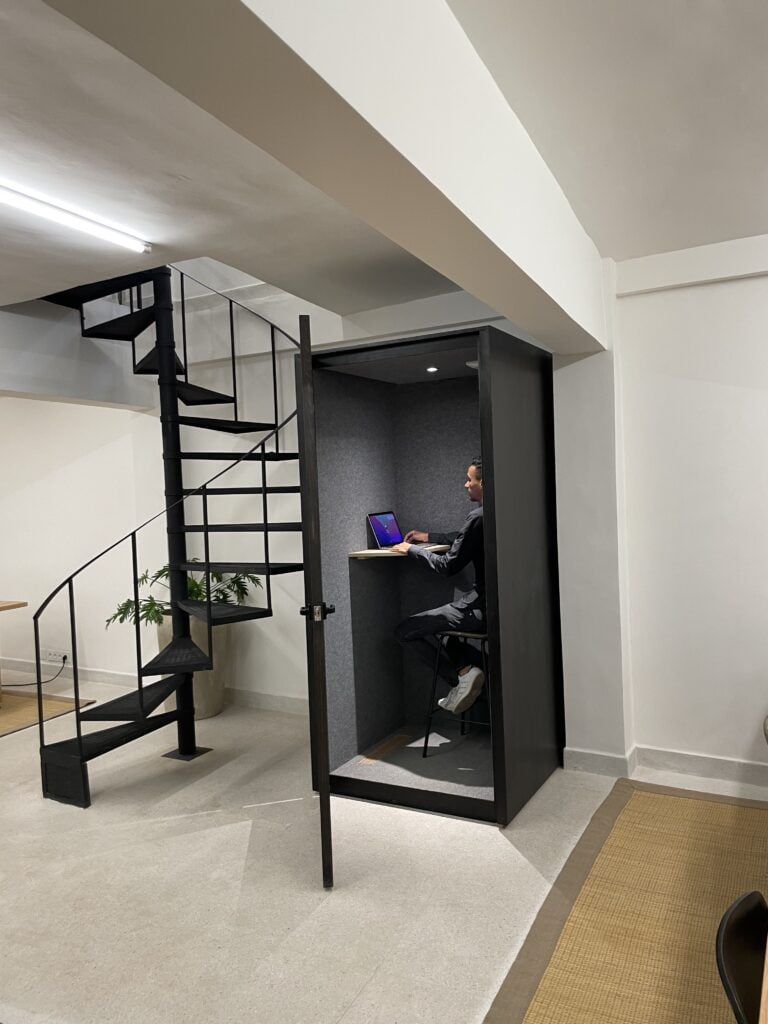 Today's self-employed workers are looking for places where they can organize professional meetings with their customers.
The flexibility and independence of these workers means that the meeting rooms they choose should be more flexible and agile.
Coworking spaces emphasize this aspect and offer facilities (air conditioning, videoconferencing, Internet access, etc.),
And the type of office (open space workstation, shared office, private closed office, meeting room, etc.).
Rent a coworking space that supports the nature of nomadic working and enhances the experience of its members
What may come as a bit of a surprise is the fact that companies with "traditional" meeting rooms within their structures are themselves opting for coworking spaces
Today's professionals understand the disadvantages of being trapped in the traditional office environment
So, the benefits of transporting employees and opting for an off-site meeting room for a change of environment and atmosphere on their well-being and productivity
As such, the main question that emerges is:
Why holding professional meetings in coworking spaces could benefit your business. Instead of renting a traditional office?
In this article, we take an in-depth look at the advantages of holding meetings in a coworking space.
1) First impressions and professionalism:
One of the advantages of a coworking office at a business meeting is that it gives a good first impression to your partners and customers.
Of course, a professional's image and reputation is his or her intangible capital on the job market.
Providing a professional environment and an excellent backdrop for a meeting helps give your company a professional image.
What's more, it can win you customers and new business opportunities.
Holding a meeting in a professional setting can win you customers and new business,
This can help your business grow and develop.
Not only that, but also when you're holding a meeting in a more modern and appropriate professional setting …
Everyone expects the meeting to be conducted in a professional manner.
2) Privacy and connectivity :
A meeting room in a coworking space is a space specifically designed to preserve the confidentiality and privacy of its members.
You don't have to worry about prying eyes and ears.
Your sensitive business information and commercial transactions are safe within the walls of a private office.
Most meeting rooms are well-equipped, including high-speed wifi,
This allows you to use smart devices and other office IT equipment during your meeting.
What's most interesting here is that this dedicated Internet connection is a secure connection.
This ensures that your business communications and document sharing are fully protected and secure.
3) Concentration and support services :
Another point regarding the advantages of choosing coworking space for professional meeting today is the following:
A meeting room creates a calm atmosphere free of noise and distractions, allowing all participants to concentrate.
As they are generally large and offer plenty of space
So you know very well that the meeting will take place in a spacious room that allows everyone to be comfortable, at ease and focused.
What's more, you'll be able to hear each other and get down to work without the distractions of a public shared workspace like a café.
A modern, well-equipped meeting room can also include several other office support services
( services you won't find if you opt for traditional office rental. )
Let's say one of your customers needs to print an important document during a meeting.
In a meeting room, you'll have access to a printer so you can get things done efficiently in real time.
Other services may include catering (coffee, tea, snacks, etc.).
As well as projectors, reception staff, administrative support, secretarial services like some business centers, etc.