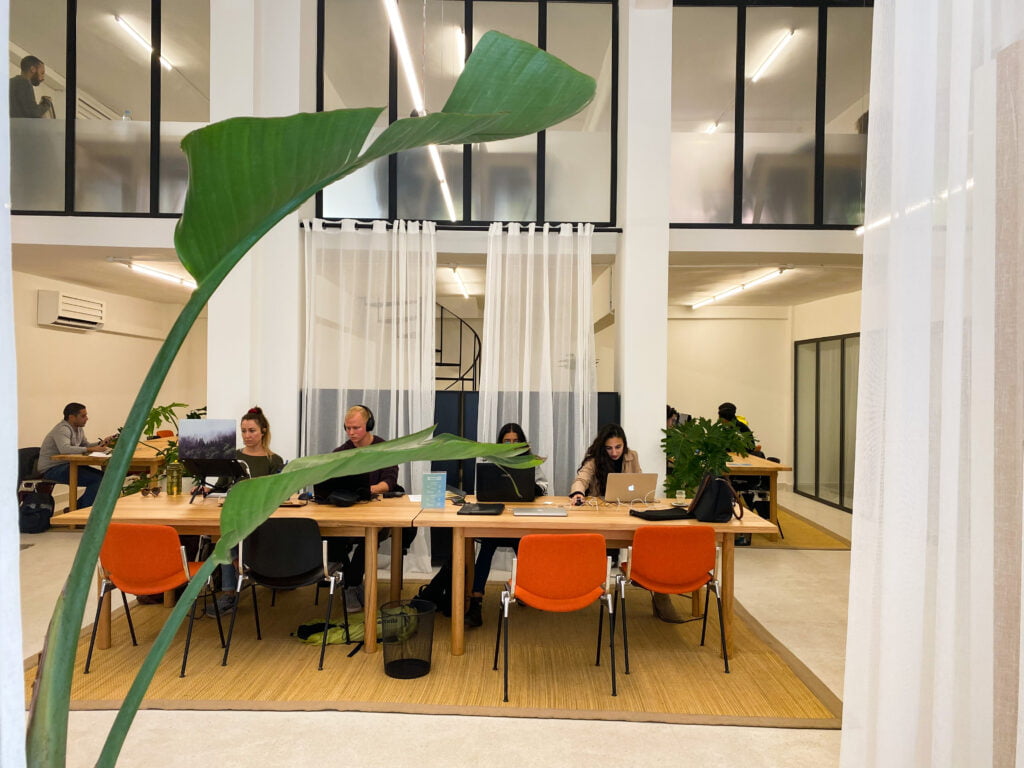 Finding a work environment that facilitates productivity and efficiency is paramount especially if you are a digital nomad who works independently from anywhere and at any time.
Rather than renting an overpriced office space, working from home in an isolated space for having to work in a crowded coffee shop with poor wifi…
Many people nowadays opt for these types of spaces in morocco which are much more affordable social alternatives with so many perks.
in this blog, we present you we give the information you need to help you choose the coworking space that suits you best:
A COWORKING SPACE IN MARRAKECH THAT MEET YOUR NEEDS:
The first thing that you must do before choosing a coworking space is identifying your needs and listing the services that must be offered in that work environment for you to get things done.
besides listing the services that must be offered by a coworking space to let you be productive and achieve your job objectives.
It is therefore essential to find a work space in which you are more fulfilled, more comfortable and more productive.
Whatever your type of activity, the main point when choosing a coworking space is that it meets your needs.
WHAT IS YOUR GOAL?
To find a place to work in peace with a nice view and friendly atmosphere or a coworking space where events are organized ?
Or a place where you can receive customers or simply a coliving and coworking space where you can exchange and network?
Moreover, depending on your activity periods that you must be aware of, choose coworking offers by the hour, by the day, with a monthly or annual subscription.
By asking yourself these crucial questions, it will be easy for you to orient yourself towards the appropriate coworking in Marrakech.
How much does a coworking space cost?
Another point to consider in that process of finding the right place for your professional activity is the prices offered.
You must define in advance the budget you think you can afford to spend for a coworking space.
at first, you have to compare the different formulas offered on the market: by the hour, by the day, by the month or even the year
The best thing you can do is to ask for a personalized offer adapted to your needs and your work rhythm.
In reality, not all coworking centres offer this formula. However, if you can find a flexible and a friendly space in marrakech with this kind of offer, it will be perfect.
This will certainly give you a certain freedom and flexibility in managing your work schedule.
Having a good working environment is what every professional needs.
However, it is important to keep in mind that when you are a new startupper, a micro-entrepreneur or a freelancer, you cannot deduct your expenses from your turnover.
Thus, It is important not to spend too much on your workplace.
In any case, coworking is surely much more affordable than a traditional work office.
Consider the location of the coworking in Marrakech
This is certainly one of the most essential criteria while choosing your coworking space.
If at first you are going to look for a space close to your home, you may quickly realize that it is not necessarily the right solution
because the place is far from your customers that you sometimes have to meet, the neighborhood is not attractive enough or difficult to access…
On the other hand, if you find a coworking space in which you feel good but:
it is difficult to reach by transport, or there are no amenities (restaurant, administrative services …) close and sufficient,
The disadvantages may be too important for you.
A space that is easy to access by any means of transportation, while being close to the city center.
This is also what L'Blassa is all about.
L'Blassa, in marrakech is a quiet, friendly, flexible coworking space ideally located near to Marrakech Plaza in the epicenter of the Gueliz district.
It is an open space designed to receive start up, businesses, freelancers and entrepreneurs where they can share the same workspace and the resources.
Getting to know other members
a co-working space designed in a way that allows you to rediscover the pleasure of working, to feel well-being in your workplace and to network with different people in different domains.
That's why while choosing a coworking space in morocco, you must look for what kind of niche workers and the community of professionals it attracts.
you must know that each coworking space has its own unique community, culture and atmosphere. 
it's paramount that you get along with the people you'll be seeing every day or at least several times a week.
It is important to know who you will be meeting with even if making friends, networking or collaborating is not your primary concern.
At the end of the day, it is certain that if you find the right community will help you grow your business immensely.